APEX ENGINEERING PRODUCTS CORPORATION
Apex Engineering Products Corporation formulates and manufactures safe and biodegradable specialty cleaning chemicals for a diverse range of applications around the world.
Our roots date back to 1941 when Edwin J. Ostermeier serviced boilers on ore boats that canvassed the Great Lakes between the United States and Canada. He sought out a more efficient and economical solution to cleaning out the boilers that traditionally required replacing expensive and cumbersome components. He also strived to maximize efficiency, reducing the amount of labor and time usually involved in cleaning boilers. A proficient chemical engineer, Mr. Ostermeier began formulating a chemical solution that would not only descale the boiler without having to disassemble the system, but also be safe to handle and dispose.
A year later, a revolutionary chemical solution was created and a small service company was born. The company was Apex Engineering Company and that chemical solution would be known as RYDLYME, the"World's Leading Biodegradable Descaler."
RYDLYME quickly expanded into a myriad of industries, including automotive, pulp/paper and general manufacturing. Apex Engineering Company also established itself in the field of histology (the study of the microscopic structure of tissues) with the introduction of the biodegradable bone decalcifier RDO Rapid Decalcifier.
Over the years, Apex Engineering Company continued to grow and evolve. By the mid-70s, the company evolved from a service-oriented company into a manufacturing company known today as Apex Engineering Products Corporation.
Four generations later, we have expanded our product line to include RYDLYME Marine and the RYDALL family of biodegradable degreasers, cleaners, odor eliminators and water optimizers. RYDLYME continues to be the "World's Leading Biodegradable Descaler" with representatives and products in more than 100 countries around the world!
We are proud to be a U.S. manufacturer renowned not only for our biodegradable line of products, but also our in-depth and exceptional customer support. With decades of knowledge and experience in a wide array of applications, our knowledgeable technicians will work closely with you to determine the best solution for your cleaning challenges. Additionally, we strive to further minimize your downtime with virtually all orders being shipped out within 24 hours. We are also an ISO 9001 Certified Company and take great pride in providing the highest level of product and support to our customers…another formula that hasn't changed since 1942!
QUALITY POLICY
Apex Engineering Products Corporation is committed to providing High Quality Specialty Chemicals that meet or exceed the customer requirements in a timely fashion and to continually improve the Quality Management System.
Apex Engineering Products Corporation is a 9001 certified company.
Click here to download our certificate.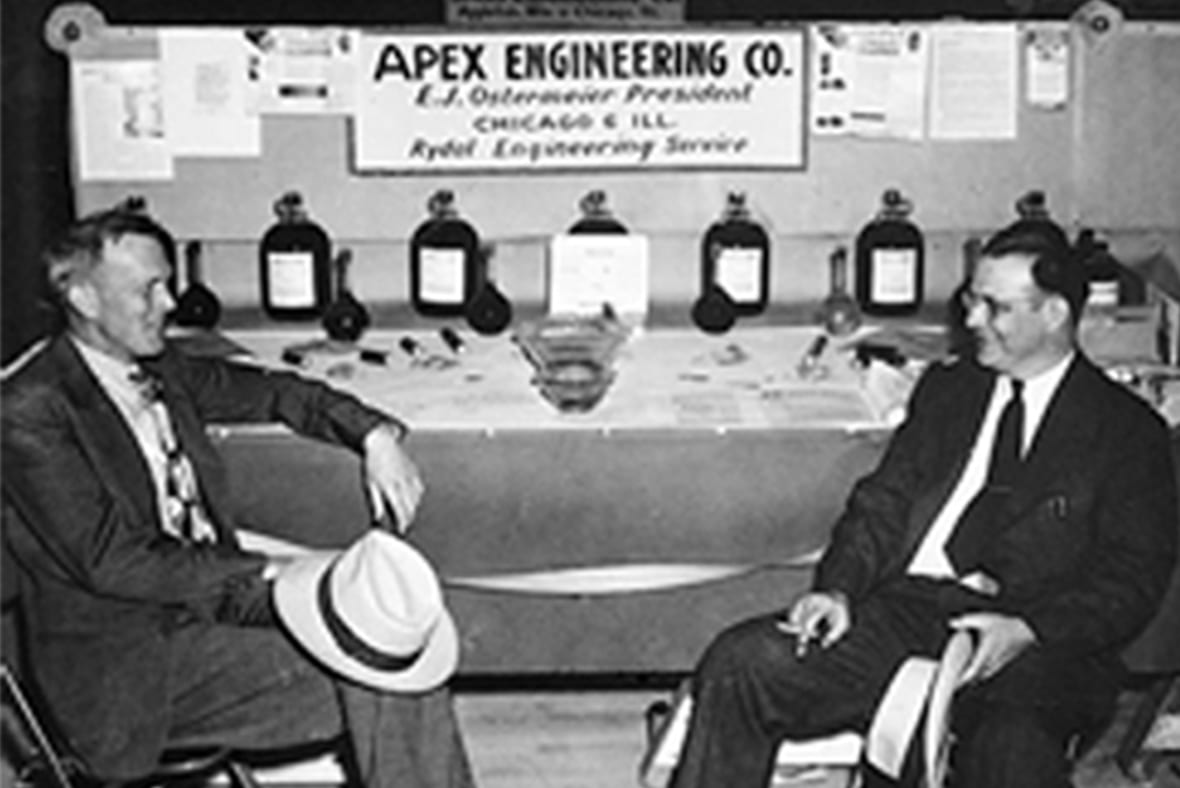 Other Quality Products Offered by Apex Engineering Products Corporation

RDO Rapid Decalcifier is specially designed for histologists and medical technicians to gently, safely and quickly decalcify bone specimens resulting in optimal histological detail and staining characteristics. RDO Gold is a clear and controllable bone decalcifier designed for more fragile specimens that contain minimal amounts of calcium.

The biodegradable BUCKED Scent Eliminator utilizes a groundbreaking technology and puts it into the hands of true hunters. BUCKED is a 100% natural non-active biocatalyst that disallows the formation of odor-causing compounds without the use of active enzymes or masking agents, unlike other products on the market.